The Noam Chomsky Reading List
The Noam Chomsky Reading List is an unofficial site that uses references, taken from the notes in some of Chomsky's important political works, to create book lists. The site catalogs 1069 books, from 2282 references in 17 works by Noam Chomsky.

The references have been gathered from the following sources: Year 501, Deterring Democracy, Manufacturing Consent: The Political Economy of the Mass Media, Rethinking Camelot: JFK, the Vietnam War, and US Political Culture, Pirates and Emperors, The New Military Humanism: Lessons From Kosovo, A New Generation Draws the Line: "Humanitarian" Intervention and the Standards of the West, 9-11, Imperial Ambitions, Hegemony or Survival, Profit Over People, Failed States, Chomsky on Anarchism, Government in the Future, Chomsky on MisEducation, What We Say Goes, and Gaza in Crisis.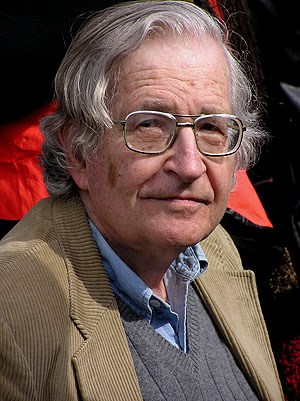 Noam Chomsky by Duncan Rawlinson (CC BY 2.0)
Links
Listmuse
Book lists based on Noam Chomsky's reading.